How Air Fryer is used?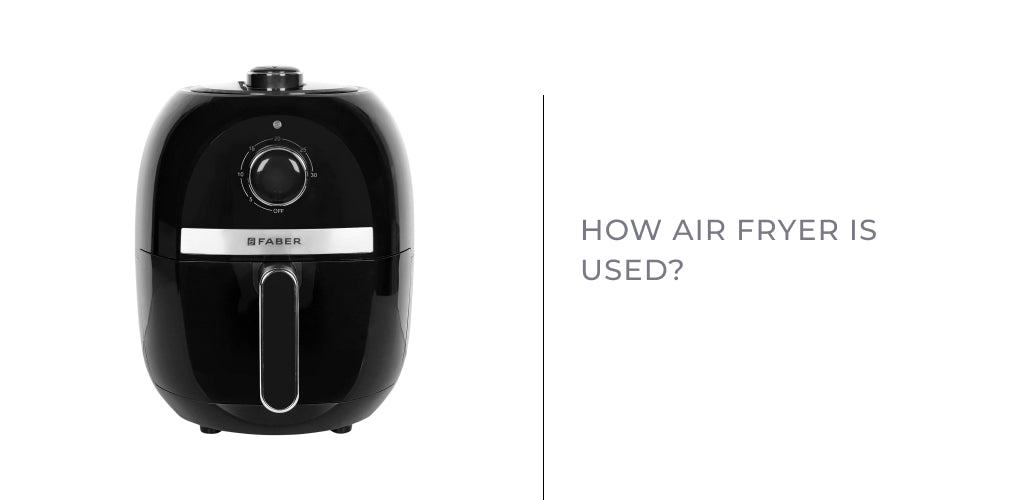 Air fryers are modern kitchen small appliances designed to create delicious, crispy dishes. On your kitchen counter, it's like having a small microwave oven.
What is an air fryer?
An air fryer creates a crispy layer while preserving its soft inner by circulating hot air around the food. The method is like deep frying but uses a lot less oil, making it a healthier option.
Air fryer comes in different capacities as
Components of an Air Fryer
The Faber Air Fryer is carefully designed with key components to ensure great results every single time. Its 4 main elements are:
Cooking chamber:

The cooking chamber is where the magic takes place. Your food is perfectly cooked with its quick hot air circulation.

Control Panel:

The control panel's simple settings to adjust the time and temperature.

Removable Basket and Tray:

These components can be easily removed and simple to clean.

Air Inlet and Air Outlet:

By controlling airflow, these vents make sure your food cooks out as crispy and delicious.
Explore the ease of producing delicious food with your Faber Air Fryer - the best air fryer for your home kitchen. 
Basic Steps for using an Air Fryer
Follow these 5 simple steps to your food perfection:
Preparation:

Arrange food in a single layer to allow for ideal airflow.

Temperature Control:

Using the user-friendly control panel, set the desired temperature.

Time Setting:

Adjust the cooking time for your recipe.

Cooking Excellence:

Let the Faber Air Fryer do its job - no flip required

Serve and Enjoy:

Enjoy your wonderful creation once the timer goes off.
5 Benefits of using Faber Air Fryer
Healthy Delights:

The Faber Air Fryer uses 80% less oil for our favourite fried foods.

Efficiency:

You can save more kitchen cooking time by using the best air fryer.

Flexible Creations:

This home air fryer can cook anything from fries and chicken wings to vegetables and desserts. 

Mess-Free Magic:

The cooking parts of the Faber Air Fryer have non-stick surfaces, hence it is easy to clean.

Economical Excellence:

The Faber Air Fryer lowers your electricity costs by using less energy than conventional ovens.
Tips and Techniques for Cooking using Air Fryer
The Faber Air Fryer - certainly the best air fryer for your kitchen- allows us to cook in many different ways.
Air Frying Perfection:

Lightly coat your food items with oil before placing them in the air fryer basket to achieve crispy, golden-brown results. Shake the basket at least once to ensure even cooking.

Baking Wonders:

Use your Faber Air Fryer to make delicious fried food. 

Grilling Delights

: Use the air fryer's grilling mode to achieve that appealing grilled flavour. Dress your meats or vegetables for extra flavour, and remember to preheat the device for a delicious crisp.

Roasting Excellence:

Use your Faber Air Fryer to roast a mix of veggies or chicken. Sprinkle your preferred seasonings and provide enough space in the basket for even air circulation.

Frozen Food Magic:

Use your air fryer to transform frozen favourites into crispy pleasures. There is no need to defrost; adjust the cooking time and temperature as needed.
Safety Precautions and Guidelines
Using the Faber Air Fryer is simple and safe, yet you must follow the following guidelines. Consult the user manual for more instructions and safety information.
Place the air fryer on a flat, heat-resistant surface with enough airflow.

To ensure consistent cooking, do not overcrowd the basket.

For the best results, certain recipes may need preheating.

Keep an eye on your meal and shake or flip it as needed for uniform cooking.
Maintenance and Cleaning
The air fryer is the best small appliance for the kitchen, and it requires a little care to ensure constant operation.
Allow the air fryer to cool down after use before beginning any cleaning or maintenance.

Remove and wash the basket and tray gently. These parts can be washed in the dishwasher or by hand with mild soap and warm water. Before reassembling, make sure they're completely dry.

Wipe the exterior of your

Faber Air Fryer

clean with a moist cloth. This keeps your kitchen appearing neat and trendy.

Avoid using abrasive cleaners on non-stick surfaces. To extend the life of your air fryer, treat it gently.

Aim for routine cleaning to avoid any deposits that may hinder the function of the air fryer.

To remove stubborn residue, make a paste out of baking soda and water. Scrub the areas of concern gently, then wipe clean.

Maintain proper airflow by keeping the air intakes and outlets clean of dirt and blockages.

Look for any signs of wear and tear on the power cord and plug.

If you're keeping your air fryer for a long amount of time, make sure it's clean and dry to prevent any unpleasant surprises.
Faber India Small Appliances range are designed to make your kitchen more convenient, efficient, and versatile. It offers a wide variety of small appliances including:
Conclusion:
The Faber Air Fryer is the best for home kitchen in India. Its innovative design allows you to enjoy your favourite crispy meals with much less oil, making each bite delightful. Air fryers are a great way to cook healthy and delicious meals without using a lot of oil. They are very easy to use, making them a great option for families to cook home-made fried foods. 
Faber's air Fryer is a versatile small kitchen appliance which allows us to go from frying to baking, grilling and roasting. If you are looking for a good quality air fryer that is affordable, please go for the Faber Best Air fryer. It comes in different capacities to meet the family needs and demand. Air fryers are mostly used to cook French fries, chicken wings, pizza and cheese cake. Make sure to pre-heat the air fryer and shake the basket halfway through cooking for its uniform heat for food. Faber air fryer comes in 2 litres, 3 litres and 4.5 litres.
The energy economy of the Faber Air Fryer matches well with modern concepts, reducing your carbon effects while saving you money on your energy costs. Its longevity is ensured by regular cleaning and careful upkeep. Buy the best air fryer online from Faber India.