Exploring Faber India Small Appliances Range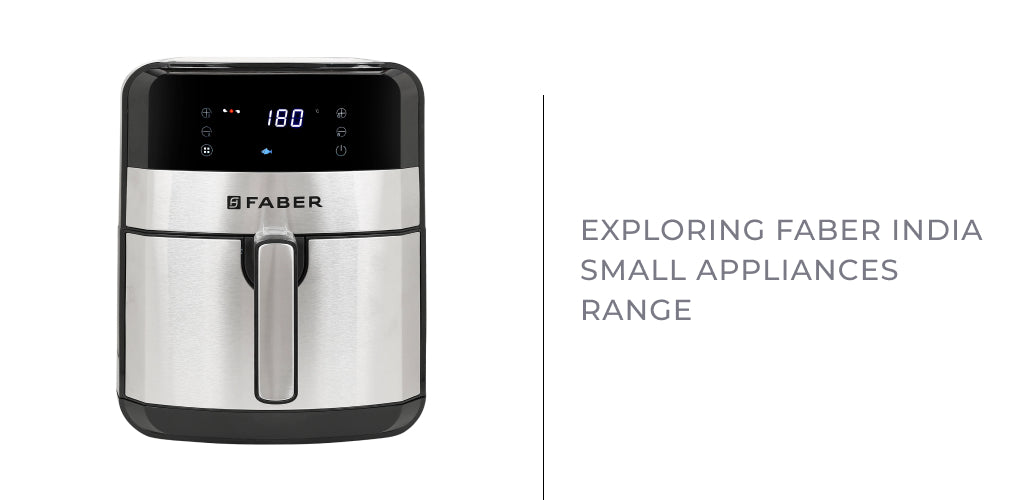 Faber India Small Appliances are designed to make your kitchen more convenient, efficient, and versatile. It offers a wide variety of small appliances including:
Importance of Small Appliances in Home Kitchen
Small kitchen appliances are the

best for home kitchens

. They save time, effort, and energy by simplifying daily kitchen duties. Electric water kettles, in particular, are among the best. 

Having reliable devices like

Faber's best water kettle

may change the way we prepare hot beverages and even help in the preparation of various types of food.
What is an Electric Water Kettle?
An electric water kettle is a small kitchen appliance that heats water with electricity. It's usually composed of stainless steel or glass, with a long, thin nozzle for pouring water. 
Electric kettles are a popular choice for home kitchens as they are quick and simple to use. These can be used for a range of purposes, including making tea, coffee, hot chocolate, and instant noodles. The electric water kettle is a multipurpose and time-saving appliance.


Defining Electric Kettle
An electric water kettle is a small appliance in the kitchen that boils water quickly. Electric kettles, compared to traditional stove-top kettles, do not need a direct heat source. Instead, they use a built-in heating element to heat water to boiling temperature. This advancement not only speeds up the boiling process, but it also improves safety and easy of use.
How Electric Kettles Work?
Electric water kettles operate using an easy mechanism. When you turn on the kettle, a heating element, usually made of stainless steel, heats up inside the body.

The thermostat inside kettle's regulates the temperature, ensuring that the water does not boil over. 

The kettle's automated shut-off mechanism prevent over-boiling  once water reaches the proper temperature hence saving energy.
5 Benefits of Using Electric Water Kettle
Quick and Easy: Electric kettles

heat water quickly, allowing you to have a hot beverage in minutes. This is especially useful if you are in hurry.

Versatile:

Electric kettles are versatile, as they can be used for anything from brewing tea and coffee to boiling pasta and rice. As a result, they are a great addition to any kitchen.

Efficient:

Electric kettles use less energy than stovetop kettles. This means that using an electric kettle can help you save money on your energy bill.

Safe:

Electric kettles have an in-built safety function that turns them off automatically when the water begins to boil. This helps to keep the kettle from overheating and catching fire.

Easy to clean:

Electric kettles are easy to clean and maintain. Wipe the outside with a damp cloth and rinse the inside with hot water.
How to Choose the Best Electric Water Kettle for Your Home Kitchen
Here are the 3 Factors when choosing an electric water kettle:
Size:

Electric kettles come in a variety of sizes, so choose the one that is appropriate for your needs. You don't need a large kettle if you're only making tea for one person. If you have a large family or frequently brew hot beverages for guests, you will need a larger kettle.

Material:

Electric kettles are available in a variety of materials, as stainless steel and glass. Although stainless steel kettles are the most durable, they are also the most expensive. Glass kettles are more visually beautiful, but they are more prone to breakage.

Power Rating:

The power rating of an electric kettle reflects how much electricity it consumes. Kettles with higher power ratings boil water faster, but they also consume more electricity. If you are concerned about your utility bill, you should select a kettle with a lower power rating.
Features and Specifications of Electric Water Kettle
The best water kettle from Faber has a number of amazing features and characteristics.
It has multiple capacity to meet your demands and temperature control choices, letting you to choose the ideal heat level for different beverages or recipes. 

The kettle's safety features, such as automatic shut-off and boil-dry prevention, make it worry-free to use. 

Its simplified form, long-lasting materials, and comfortable handle make it a natural fit for any kitchen surface.
Maintenance and Care for Water Kettle
Proper maintenance is required to extend the life of your electric water kettle.
Cleaning and washing on a regular basis help to prevent mineral deposition and ensure high performance.
Simply combine vinegar and water, bring to a boil, and thoroughly rinse.
To avoid moisture retention, always store the kettle with the cover open. Following these simple measures will keep your Faber water kettle in good operating order for many years.
Which Faber Electric Water Kettle is Right for You?
Faber India is a leading maker of small kitchen appliances, and they provide a wide selection of electric water kettles. Faber electric kettles are well-known for their high quality, durability, and fashionable design. 
Choose from below listed best Faber electric water kettles from Faber India
FK SS - Kettle - This kettle is made from stainless steel body and has a capacity of 1.2 liters. It has a auto switch off, cool touch handle, over and dry heat protection.
FK 1.7l BL - Black Kettle - This kettle is made from stainless steel body and has a capacity of 1.7 liters. It has a auto switch off, cool touch handle, safety lock lid, transparent water gauge, detachable filter for easy cleaning over and dry heat protection.
Conclusion:
Small kitchen appliances like electric water kettles offer an innovative solution in home. Faber's best water kettle not only signifies efficiency and convenience, but it also represents an advancement in kitchen technology. 
Buying this improves your dining experience and the importance of adopting the best small appliances for your home kitchen. Embrace the future of cooking with Faber, where innovation meets tradition to create an ideal balance for your modern kitchen requirements.