Best Built-In Refrigerators Guide: Features, Installation, Maintenance & Tips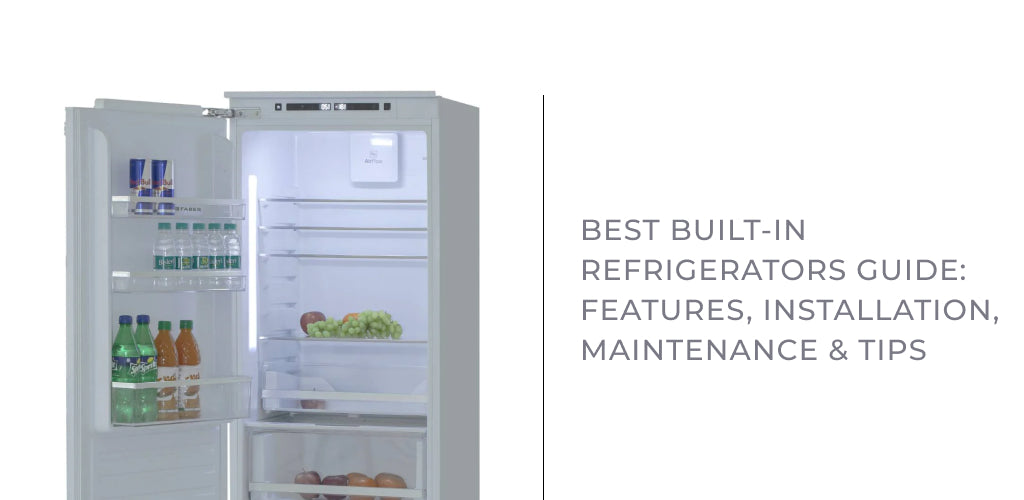 What is Built-in Refrigerator?
Built-in refrigerators are appliances that are designed to be easily integrated into kitchen cabinets. They have seamless appearance, improved energy efficiency, and the ability to be modified to meet the demands of your kitchen.
These fridge provide more storage with movable shelves, creative compartments, and excellent cooling technologies. 
Built-in refrigerators being energy efficient, designed to keep your food fresh while using less electricity. Innovation meets style with Faber India best built-in appliances.
Importance of Built-In Refrigerators in Modern Kitchens
In modern kitchens, built-in refrigerators are becoming common. They have uniform appearance and are more energy efficient as compared to normal refrigerators.
Let's study 6 advantages of Built-In Refrigerators in Modern Kitchens:
Seamless Look:

Built-in refrigerators designed to fit parallel with your cabinets. This is particularly important in modern kitchens, where clean lines and sleek design are preferred.

Improved energy efficiency

: Built-in refrigerators often use less energy than freestanding refrigerators. This also includes features such as humidity-control and energy-saving compressors, which may help in reducing energy use.

Options for customization: These

appliances can be modified to meet your kitchen demands, such as size, finish, and structure. This means you may select a model that matches the design and style of your kitchen.

Value of Home:

Built-in appliances are often seen as a symbol of quality and luxury, hence increasing home value.

More Spacious:

This takes up less space than freestanding equipment, making your kitchen look spacious.

Durability:

Built-in refrigerators are typically made with higher-quality materials and construction than normal fridges.
7 Features of Built in Fridges
Built-in refrigerators come with a variety of features that can make them a great choice for your kitchen. Some of the most common features include: 
Space-Saving Design:

Built-in refrigerators have a sleek and slim design that maximizes kitchen space. Unlike usual standalone refrigerators, these units can be integrated into your kitchen setup.

Customizable Panel

: Faber gives the option of customizing panels on the refrigerator to achieve a uniform look in your kitchen. 

Multi-Zone Cooling:

The multi-zone cooling system is a significant feature. Separate temperature controls are provided in each compartment, enabling you to store different types of food at their appropriate temperatures, maintaining longer freshness and reducing food waste.

Energy Efficiency:

It uses innovative cooling technology that not only keeps your food fresh but also saves electricity. 

Adjustable Shelves:

The interior of Faber's built-in refrigerators is designed for flexibility. To fit products of different sizes, the shelves can be modified or removed. This feature is very beneficial when storing large pots, pans, or tall bottles.

Smart Controls:

The refrigerators' smart touchscreen controls make operation easy. The simple interface lets you to change settings, change temperatures, and access other features.

Sleek Aesthetics:

Faber's built-in refrigerators bring a touch of modern elegance to your kitchen. The elegant design and easy integration boost the look.
Installation and Integration of Refrigerator
Faber's built-in refrigerators bring a touch of modern elegance to your kitchen. The installation of a built-in refrigerator has to be done correctly to ensure the safety and longevity of your equipment. 
Here are some installation tips for a built-in refrigerator:
Preparing the kitchen area:

Measure the available area carefully before installation to ensure a perfect fit. Check the electrical and plumbing needs to ensure that everything is ready for installation.

The Installation Procedure:

Built-in refrigerators are intended to fit in with the cabinets in your kitchen. Hiring professional installers for integrating built-in appliances is suggested for a perfect finish.

Beauty & Customization:

Customization is essential for achieving an elegant look. Using customized panels that match your kitchen cabinets for a uniform appearance.
Integration tips for built-in refrigerators
The method of making a built-in refrigerator appear to be part of the cabinets is known as integration. Modifying the cabinets or painting the refrigerator to match the cabinets may be required.
Here are some tips for integrating a built-in refrigerator:
The cabinets and refrigerator should have the same finish.

This will help in the refrigerator's integration with the cabinets.

Decorate the refrigerator with decorative shape.

This helps in matching the refrigerator to the design of the cabinets.

Integrate the refrigerator into the overall look and design

. This can be accomplished by incorporating matching accessories, such as a towel bar or a soap dispenser.
Introducing the Faber's Best-selling Built-in Appliances for Home Kitchen
Maintenance and Care of Built-in Refrigerator
Regular maintenance and care for your built-in refrigerator will help it work smoothly and efficiently for many years. Here are some ideas on how to maintain and care for your built-in refrigerator. 
Clean the exterior on a regular basis.

Wipe the refrigerator outside with a gentle, wet cloth. Harsh chemicals and abrasive cleansers should be avoided as they can ruin the surface's end.

Clean the interior on a regular basis.

Use a mild soap and water solution to clean the inside of the refrigerator. Make sure that all the shelves, drawers, and compartments are clean.

Defrost the freezer on a regular basis.

You won't need to defrost your refrigerator if it has a frost-free freezer. But, if you have a manual defrost freezer in your refrigerator, you will need to defrost it every few months. Disconnect the refrigerator and let the ice melt to defrost it.

Replace the water filter on a regular basis

.

If your refrigerator contains a water filter, replace it according to the manufacturer's recommendations. Changing your water filter will help to keep your water fresh and clean.

Inspect the door seals on a regular basis

.

Check that the door seals are strong and that no gaps exist. If the door seals are damaged or worn, cold air might flee, increasing your energy expenditure.

Have your refrigerator serviced on a regular basis

.

Every year or two, get your refrigerator serviced by an experienced professional. This helps in detecting any issues early on and preventing them from becoming more severe.
Conclusion
Faber India is a popular kitchen appliance brand in India. If you are looking to buy the best built-in refrigerator for your home kitchen, Faber is a great option. Faber built-in refrigerators are sleek, energy efficient, durable, and can increase the value of your home.  It is well-known for its elegant aesthetic, energy efficiency, and unique features.
Built-in refrigerators combine innovation, style, and functionality, improving the appeal of your kitchen while optimizing space. These best built-in appliances often use less energy than other brands. This is due to the fact that they are more strongly packed, which reduces heat loss. These will also include technologies like humidity-controlled crispers and energy-saving compressors, which will help to cut energy consumption. This can help you save money on your energy bills while also reducing your environmental impact.