What is Dishwasher and how it performs its basic functions?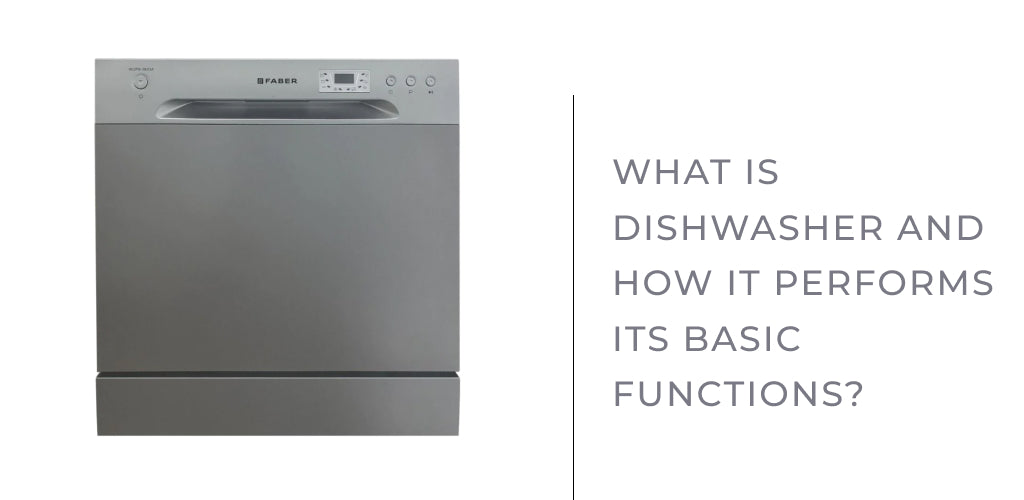 The dishwasher or dishwashing machine is basically a machine that cleans and washes out dirty dishes. During the initial set-up, we have to load the dishes, fill the detergent, salt and rinse that helps in cleaning the dishes, and turn on the power. But remember not to overload it.
Dishwasher uses and functions
There are numerous cycles and options for cleaning your dishes, including
green mode, a smooth mode for glassware, and normal and standard washing.
See the following points to see what the dishwasher performs on its own:

• Add on the water
• Warms the water to the proper temperature
• Consequently opens the cleanser distributor with perfect timing
• fire the water through the shower arms to get the dishes clean
• drain out the messy water
• Showers more water on the dishes to wash them
• Vent it once more
• Warms the air to get the dishes dry, assuming the client has chosen that setting

Dishwashers also monitor themselves to ensure that everything is working properly. The length of each cycle is controlled by a timer. A sensor detects excessive water levels and initiates the drainage mechanism to prevent the dishwasher from overflowing.
Another sensor detects the temperature of the water and the air to prevent the dishwasher from overheating and harming your dishes.
Some dishwashers even include sensors that detect the dirtiness of the water that drains from the dishes; hence it senses that the dishes are clean when the water is clear.

The dry cycle is an optional stage in a wash cycle. The warming component at the lower part of the dishwasher warms the air inside, allowing the dishes to dry more quickly. To save energy, people also simply let them dry without using heat.

Faber features a dishwasher with a powerful memory, free-standing design, and push-button operation, this energy-efficient appliance delivers fast results at the press of a button.
Faber India also offers 3 different varieties of Dishwasher for Home Kitchen. These are:
Built-in Dishwasher: It has been considered standard. It is intended to be permanently placed in your kitchen underneath your countertops, almost flush with your cabinets. Built-in dishwashers, which have become common in many homes, allow you to spend additional time enjoying your meals and less time cleaning.
Freestanding Dishwasher: A freestanding dishwasher is a standalone or portable device that can be installed anywhere that has access to water and drainage, giving you more choices. It is quite simple to set up and install, and it has all of the distinctive features. It is great for small places, such as apartments, when there is no specified space for dishwashing. You can also transport it with you when you relocate.
Table Top Dishwasher: Tabletop dishwashers, are roughly the size of a microwave oven. A countertop dishwasher is a compact dishwasher that fits on your kitchen counter, on a trolley, or wherever else it can easily access the sink. It draws water from your kitchen tap and drains it through the sink. While it cleans your dishes just as well as a full-size dishwasher, it is considerably more compact, consumes less electricity, and requires less water than a built-in dishwasher
Dishwashers feature includes:
Easy-to-read LED display and simple controls you to handle.
The unique power memory feature remembers all settings so the next time it's used, the same cycle can be repeated ensuring perfect results each time.
Low water consumption helps keep running costs down while keeping up high-performance levels.
An independent safety lock provides added protection
Make washing dishes hassle-free with this robust, reliable dishwasher.
Equipped with natural drying technology and hygienic cleaning capabilities.
The advanced 3-stage filtration system ensures 100% stain-free utensils even after heavy use while its 350+ degree dryer feature helps protect lint hot spots by ensuring essential hygiene and sanitation throughout the cycle.
Enjoy effortless clean-up every time with ultra-modern technologies like soil sensing; delay start options.
Make every day count with crystal clear dishes from our innovative appliance featuring an eco-friendly design powered by smart Natural Drying Technology.
Also with its salt and rinse aid indicator, 1-24 hour delay start feature, and massive place settings capacity, it's no wonder Faber is the top-rated dishwasher on the market.
When you need a little extra cleaning power, easily use the powerful steam setting option using a single touch. With energy-efficient features that save electricity while delivering outstanding results, plus some additional features such as foldable racks and adjustable baskets.
Faber's Dishwasher is the perfect machine made to fit in any Indian kitchen.