How to choose a Built-in Dishwasher for your Kitchen?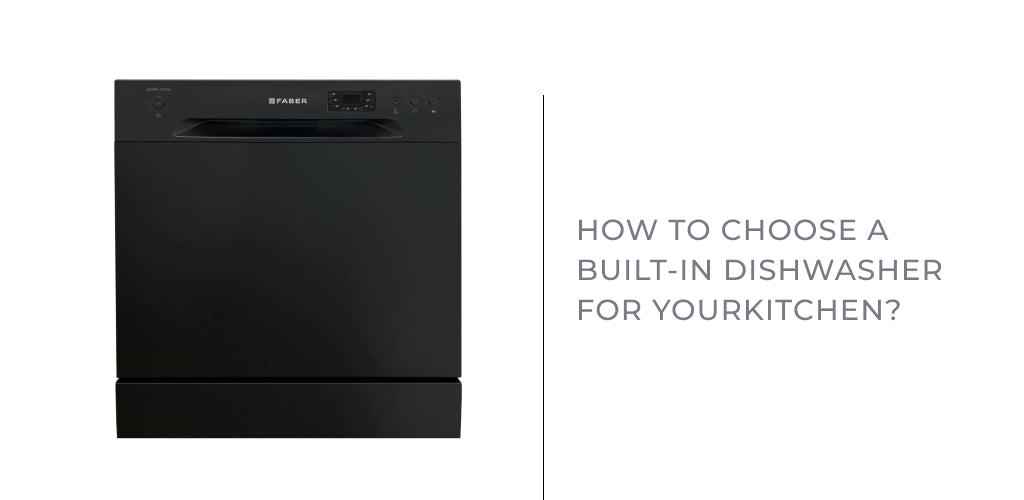 The first step in choosing a built-in dishwasher is to measure the space available in your kitchen. This will help you in identify and select the best dishwasher size to fit. After that, consider the features, designs, and control panel layouts that go well with your kitchen preferences.
You can select between top-control and front-control dishwashers for control panel Layouts.
Dishwashers with top controls have a sleek, minimal style. The control panel is positioned on top of the device door, which is less noticeable while the dishwasher is shut.
Dishwashers with front controls have the control panel visible on the exterior of the appliance. It makes it simple to access and launch a washing cycle right away.
Choose the model that has the features you require after taking size, position, and control panel settings into account.
Faber India offers a wide variety of dishwashers with convenient features.
Benefits of a Built-in Dishwasher
Saved Space: Saving space is probably the most obvious benefit of a built-in dishwasher. A Built-in dishwasher won't take up more space in your kitchen as it gets installed inside kitchen cabinets. In addition, you'll gain from a kitchen design that is much cleaner and more organized.
More Capacity: With the built-in dishwasher, you'll still benefit from having extra space for dishes.
Less Noise: Built-in dishwashers produce less noise.
What Size of dishwasher is Ideal?
The dishwasher size and load capacity you need will depend on the size of your Kitchen. Here are the different Built-in Dishwashers based on different sizes:
1.) Standard Dishwashers
The standard measuring unit for dishwasher capacity is the number of place settings that are easy to fit inside it. Typically, a place setting has 5 pieces. These utensils are a dinner plate, a side plate, a soup bowl, a glass, and a teacup.
The 24-inch built-in dishwasher have up to 12 place settings. Some models with larger tubs can handle up to 16.
2.) Compact Dishwashers
Compact dishwashers are all tabletop models, while integrated dishwashers are also available in this size. Compact dishwashers can wash around 6 place settings at once and are about the size of a microwave.
Compact dishwashers can be a fantastic option for small families or for those who need an additional dishwasher for accessibility concerns. Even though they need more water and energy to wash fewer dishes than normal or slim dishwashers.
3.) Slim Dishwashers
A slim dishwasher is one that is 18 inches wide. Slim dishwashers are ideal for smaller kitchens that do not have the under-cabinet space for a normal dishwasher. It can hold about ten place settings. To make them lightweight and simple to store, many portable dishwashing models are slim.
Faber has different types of Dishwasher that will keep your Dishes clean. Explore them now: