Unlocking Kitchen Excellence with Faber Gas Appliances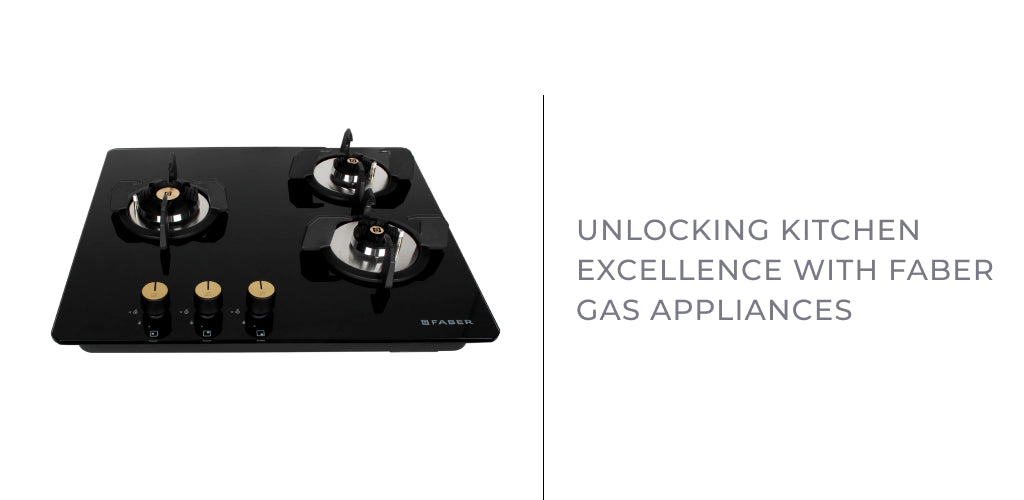 Faber Gas Appliances are the ultimate of innovation, functionality, and style when it comes to upgrading your cooking experience. Faber has gained its status as a trusted brand among kitchens by offering a varied selection of cook top, cooking range and hob top. 
Faber Gas Stoves are available in a range of the efficient gas stove 3 burner and 4 burner gas stove to the adaptable 2 burner gas stove and the beautiful 5 burner gas stove. 
The Charm of Faber Gas Stoves
Gas Stove 2 Burner: The Faber Gas Stove 2 Burner

combines space-saving with exceptional cooking capabilities. 

This gas burner enables exact heat control for your food experience, either for spicy sauce or mixing up an instant stir-fry.
Gas Stove 3 Burner:

The

Faber Gas Stove 3 Burner

is a popular choice for most families. 

You can multitask and cook various dishes at the same time, saving you time and effort.
4 Burner Gas Stove:

The Faber

4 Burner Gas Stove

opens up new

cooking

possibilities. This stove has plenty of cooking space, making it ideal for anyone who enjoys dinner parties. These

four burners

allow you to make up an amazing meal in no time.

Faber 5 Burner Gas Stove:

Take your cooking skills to the next level with the Faber

5 Burner Gas Stove

. 5 burners can adjust to different heat levels, allowing you to tackle difficult recipes with ease
Faber provides cutting-edge Gas ovens, ensuring that your baking efforts reach new heights of perfection. 
You can securely bake everything from airy cakes to delicious baked goods with even heat distribution and precise temperature control, creating consistent and tasty results every time.
Faber India Gas Appliances Features:
Faber Cooking Range is the best option:

Combination of a

gas stove

and

oven

, and sometimes a

grill

into a single unit, making it ideal that enjoy cooking
Electrifying Efficiency as Gas Cook tops and More:

While Faber focuses in

gas appliances,

they also provide innovative

electric stoves

for an exciting cooking experience. 
These offer a smooth cooking process with the added benefit of easy cleaning and maintenance.
Faber Gas Burners are Quick and Efficient: Gas Burners

are a

kitchen

must-have, for every food item. Designed for optimal efficiency and produce quick heat, allowing you to cook with accuracy maintaining tastes.
How to Choose the Best Faber Gas Stove for You?
With so many Faber Gas Appliances to choose from, consider your cooking habits, kitchen space, and needs to find the best match for your kitchen adventures. 
Whether you choose the tiny 2 burner gas stove or the 5 burner gas stove, Faber India promises superior performance and long-lasting style.
Conclusion
Faber India is dependable and creative brand in the world of gas appliances, helping both home cooks and professional.
From 3-burner gas stove to the beauty of 5-burner gas stove, each Faber Gas Appliance is designed to enhance your cooking experience. 
So, take a chance and embrace the perfection of Faber Gas Appliances, transforming your kitchen into a cooking heaven.
Faber India offers the Best Product Range in Gas Appliances:
Faber's has the best-selling Stoves: